Event Passed
This Event has passed.
Watch our calendar for next year's event!
Event Location
Forest Park
Forest Park Drive
Woodhaven NY
12/15/2019 • 9:00 AM
Event Contact Info
Event Details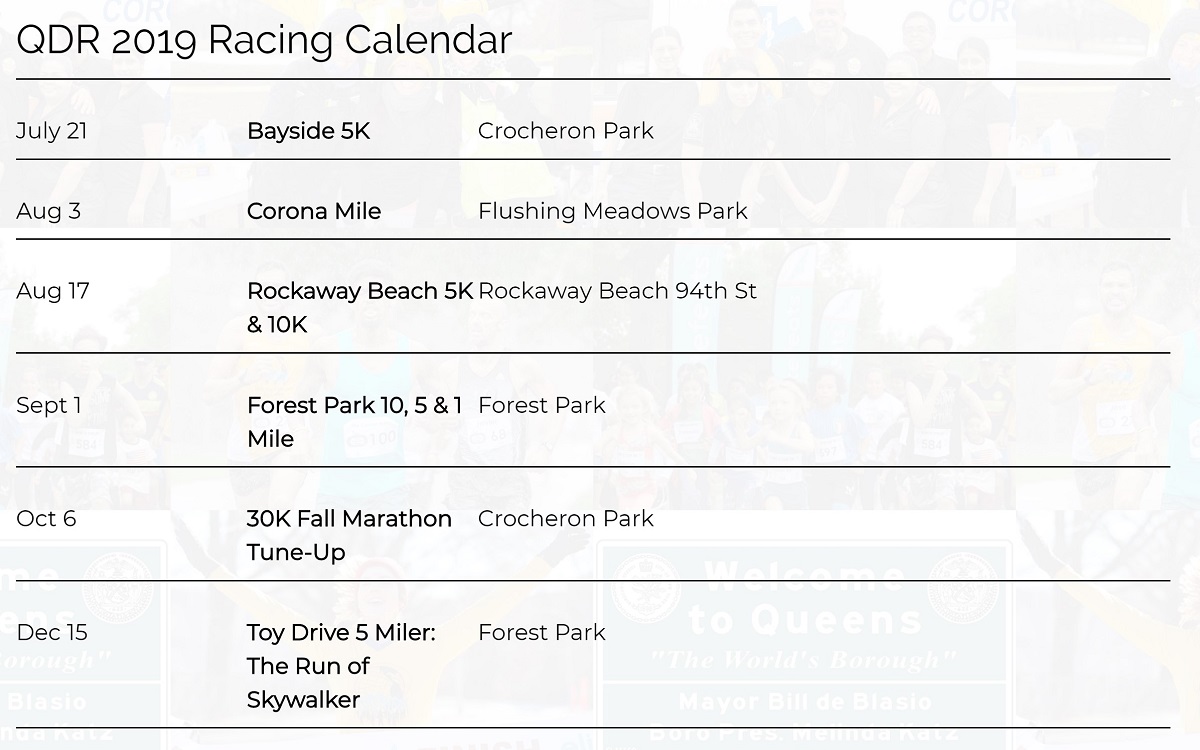 Toy Drive 5 Miler Details
9AM START
Get into the Holiday Spirit, and be a part of our Annual Toy Drive 5 Miler!
ABOUT
Get into the Holiday Spirit, and be a part of our Annual Toy Drive 5 Miler!
A Tradition that is now in it's 6th Year, we gather for this 5 Mile Race, securing as many toys as we can for the Children of the Queens Centers for Progress. We ask that if you have the ability to, bring Toys to our Race Registration area on Race Morning. Please bring all toys UNWRAPPED to Race Central, Volunteers will be collecting toys on site.
About Queens Centers for Progress
Queens Centers for Progress is made up of people working together to promote the independence of individuals with developmental disabilities. We play many different roles, but each of the agency's more than 600 staff members is focused on this same goal.
QCP's goal is to support each person in making the most of his or her talents, abilities, and interests. We seek maximum involvement from the individual in making the choices of goals and outcomes that have meaning in their lives. At the same time we provide a range of supports in those areas affected by the disabling conditions, so that the person can be as independent and integrated into the life of their community as possible.
Our services include education, therapy, job training and placement, day programs, advocacy, service coordination, housing, and many other support services to help people with developmental disabilities lead fuller lives.
Please consider making an online donation directly to Queens Centers for Progress!
Bib Pickup Give yourself time to arrive at least an hour before race start time of 9 AM. Bib pick-up, baggage, and restrooms will be outside Victory Field Track on Forest Park Drive East. This is off Woodhaven Blvd. We will have tables set up for Bib Pick-up, Race-Day Registration, and Baggage.
Transportation Our Race Central Area is entering Woodhaven Blvd and Forest Park Drive, we are located behind the Handball Courts and Victory Field Track. It is easiest to drive and park your vehicle at the Forest Park Bandshell. You can also try and park on Myrtle Avenue. (Plug 83-24 Woodhaven Blvd and you'll be within a 2 Minute Walk to the Track.
BUS A solid way to get close to the scene is taking the bus. The Q53, Q52 and Q11 all head up and down to Woodhaven Blvd and Myrtle Avenue. You can take the Q55 which heads East and West on Myrtle Avenue.
TRAIN You can take the R or M Train to Woodhaven Blvd and take the Q53. You can also take the E or F Train to Union Turnpike Kew Gardens and jog about 1.5 Miles through Forest Park Drive. There's also the J Train which takes you to Woodhaven Blvd, where you can walk up the hill to Forest Park Drive. There's plenty of options to get there.
COURSE The Course is an out and back out loop of Forest Park Drive East from Woodhaven Boulevard to Metropolitan Avenue and back. This is the exact course as "The Course Awakens" back in 2015. One loop is 2.5 miles out and back. There will be a Water Station by the Metropolitan Avenue side of the route. Mile Markers 1, 2, 3 and 4 will be on display on the Right Side of the road. Mile 5 is the Finish Line! The course is hilly and dare we say, you may have to "use the force" to persevere!
Kids of Queens At 10:30AM, you are welcome to support the Kids of Queens in their final Race Event of the 2019! The Mile will take place on Victory Field Track.


May The Force Be With Us!


Fees
Early Pricing
Runner- $25
QDR Member- $20
QDR+: $15
Price Increase Midnight November 9
Runner- $30
QDR Member- $25
QDR+: $20
Schedule
Bib Pickup- 8AM
Race Starts- 9AM
Bib Pickup Kids of Queens- 10AM
Kids of Queens- 10:30AM
PROFESSIONAL RACE PHOTOGRAPHY
Horse and Duck Studio will place themselves along the course, capturing your very best moments of the race!
QUESTIONS
Please send all inquires to queensmarathon@qdrunners.org
Facebook @QueensDistance
Instagram @QueensDistance
Interested in Volunteering? CLICK HERE!
RESULTS & FINISH PHOTOS
LIVE online/email/text results. LIVE Split Point Tracking throughout looped courses.
FREE Video & Same-day finish line pics
Misc Photos on Facebook @elitefeats
---
>> For Results to the Bayside 5K - Click this link
For Race Photos Captured by Horse and Duck Studio- Click this link
>> For Results to the Corona Mile - Click this link
For Race Photos Captured by Horse and Duck Studio- Click this link
>> For Results to the Rockaway 5K & 10K - Click this link
For Race Photos Captured by Horse and Duck Studio- Click this link
>> For Results to the Forest Park 10M, 5M, 1M - Click this link
For Race Photos Captured by Horse and Duck Studio- Click this link
>> For Results to the Tuneup 30K - Click this link
For Race Photos Captured by Horse and Duck Studio- Click this link