Event Passed
This Event has passed.
Watch our calendar for next year's event!
Event Location
Flushing Meadows-Corona Park
100 Flushing Meadows Pedestrian Bridge
Corona NY
8/3/2019 • 7:55 AM
Event Contact Info
Event Details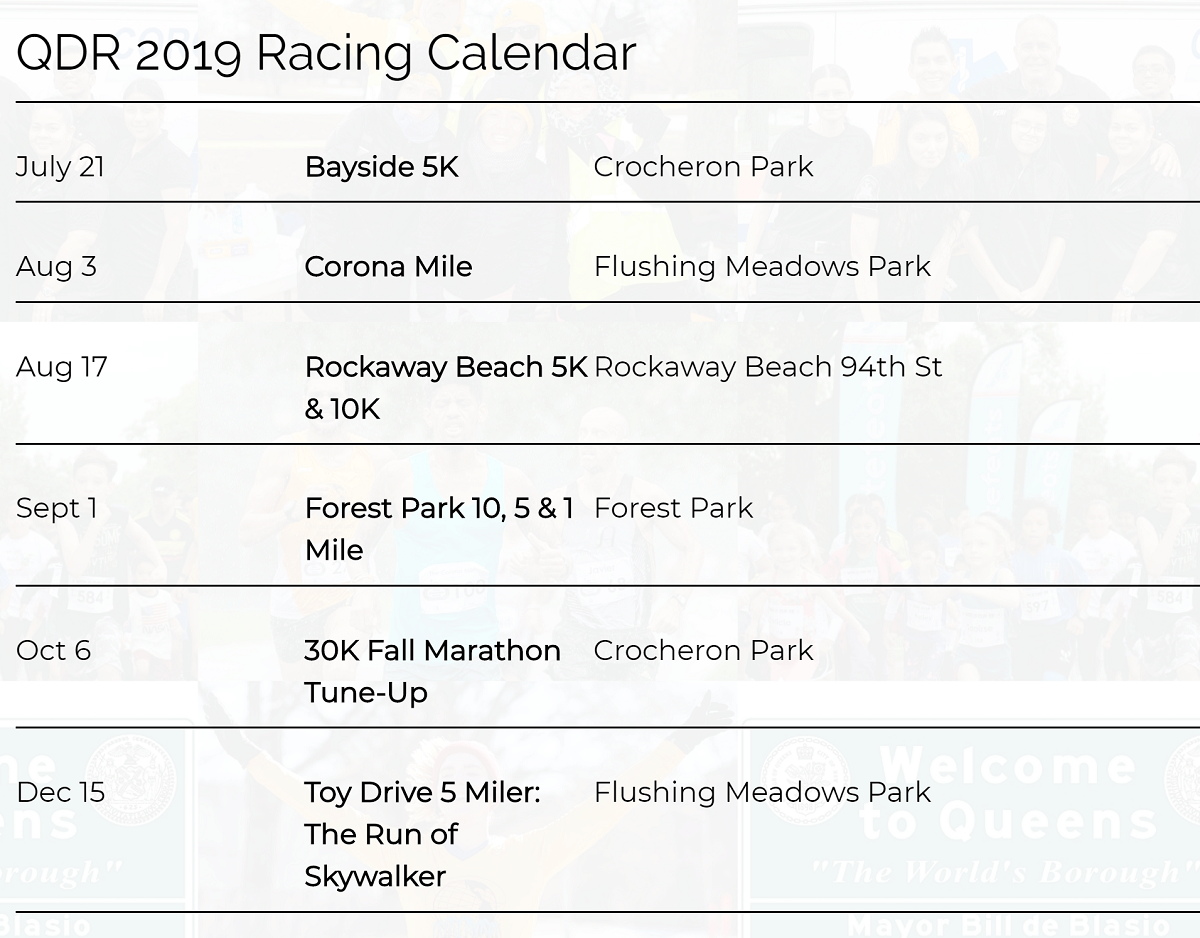 7:55 AM Start
7:55AM- Women's Heat
8:15AM- Men's Heat
8:35AM- Elite Heat (Men & Women)
8:45AM- Queens Community Champions and Kids of Queens
Elite Race At the conclusion of the Corona Mile Open Heats, we will come together and support the Men's and Women's Elite Heat. Slots will be allocated on a rolling basis, if know of anyone that meets the following standards, have them email kevin@qdrunners.org
Elite Men's Heat 4:45 and Under
Elite Women's Heat 5:25 and Under
ABOUT
Over the winter and throughout Queens Marathon hype season, whether through email, DM or in passing, the Corona Mile has been lodged in our minds since our final finisher crossed the line. That day was very special, and each runner persevered through the mile and torrential rains.
On August 3rd, we're bringing back the Corona Mile and everyone is invited! As of now, the Mile remains within Flushing Meadows Corona Park, and we've flushed out the tight turns from the Start to give you more straightaways to power through almost the entirety of the Mile.
CHECK IN
Registration & Packet Pickup- 7AM, Queens Unisphere
COURSE
TRANSPORTATION
The best way to arrive to the Start would be to take the 7 Train to 111th Street and walk down to 56th Avenue. There will be a few parking spots by the Queens Museum and underneath the Van Wyck Expressway. Another popular spot to park is along 108th Street.
PROFESSIONAL RACE PHOTOGRAPHY
Horse and Duck Photo will place themselves along the course, capturing your very best moments of the race!
QUESTIONS
Please send all inquires to queensmarathon@qdrunners.org
Facebook @QueensDistance
Instagram @QueensDistance
Interested in Volunteering? CLICK HERE!
RESULTS & FINISH PHOTOS
LIVE online/email/text results. LIVE Split Point Tracking throughout looped courses.
FREE Video & Same-day finish line pics
Misc Photos on Facebook @elitefeats