Event Location
Cunningham & Alley Pond Park
193-10 Peck Ave
Fresh Meadows NY
10/6/2019 • 8:00 AM
Event Contact Info
Event Details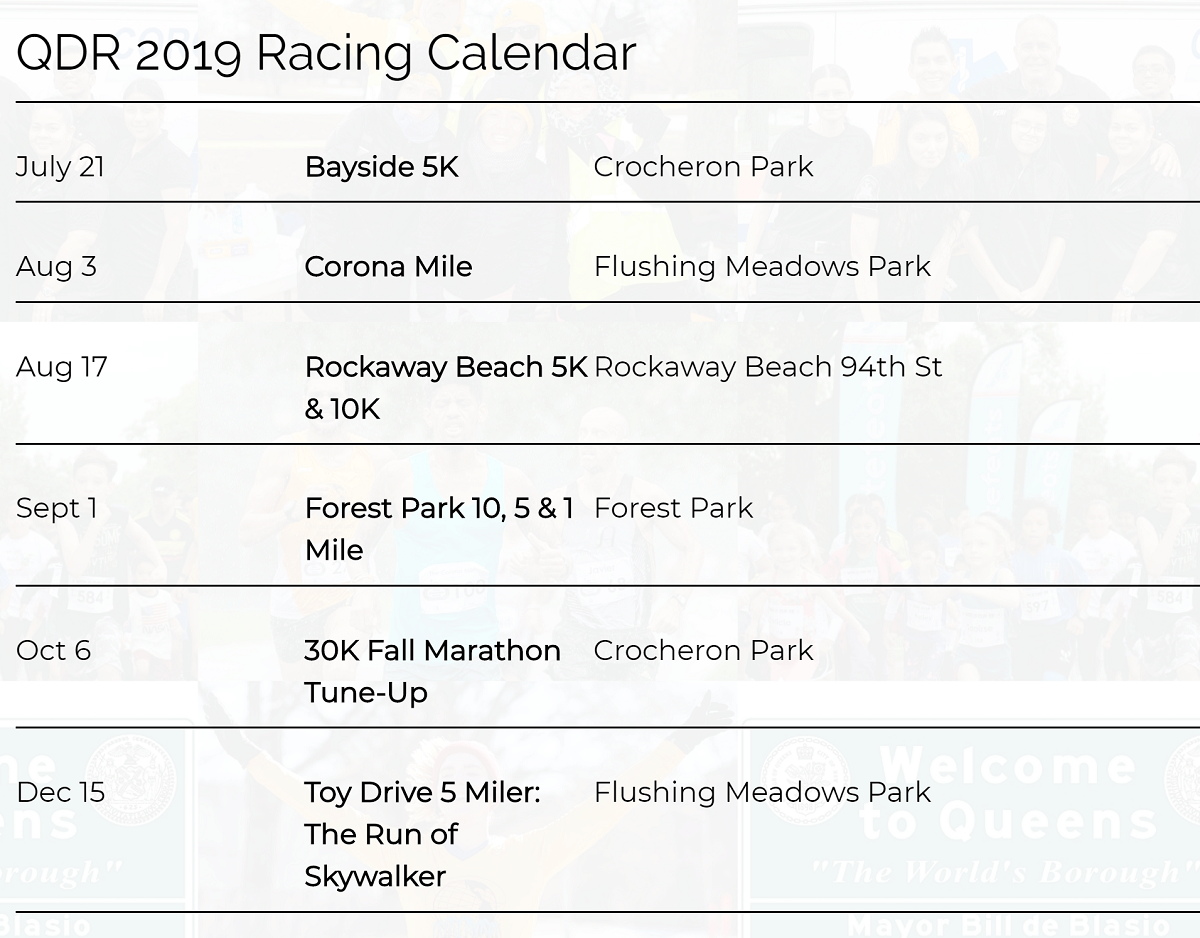 Tuneup Details
8AM START
Timed, Loop Splits, Non-Scored, FREE Photos
If you are anticipating to complete less than 6 loops, please inform the race timers by the Start/Finish area.
Get in that All-Important Marathon Pace TUNEUP with Queens Distance! Running a Spring Marathon? This will be a Must! Run up to 6 Loops to get to 30K of well Paced Marathon Miles.
Free Kids of Queens Mile
Tuneup Course
Water Stations and Bathrooms: There will be Two Water Stations along with Electrolytes (Gatorade) and will have GU and Bananas after 1 Hour into the Event. There will be at least two NYC Parks Bathrooms open. We will also have Portable Toilets near the Start and Finish
Time Limit: 4 Hours (12:52 Pace Per Mile). We will make sure to have Volunteers lively and ready for any and all runners.
PROFESSIONAL RACE PHOTOGRAPHY
Horse and Duck Studio will place themselves along the course, capturing your very best moments of the race!
QUESTIONS
Please send all inquires to queensmarathon@qdrunners.org
Facebook @QueensDistance
Instagram @QueensDistance
Interested in Volunteering? CLICK HERE!
RESULTS & FINISH PHOTOS
LIVE online/email/text results. LIVE Split Point Tracking throughout looped courses.
FREE Video & Same-day finish line pics
Misc Photos on Facebook @elitefeats
>> For Results to the Bayside 5K- Click this link
For Race Photos Captured by Horse and Duck Studio- Click this link
>> For Results to the Corona Mile- Click this link
For Race Photos Captured by Horse and Duck Studio- Click this link