Event Passed
This Event has passed.
Watch our calendar for next year's event!
Event Location
Forest Park
Forest Park Drive
Woodhaven NY
9/1/2019 • 8:00 AM
Event Contact Info
Event Details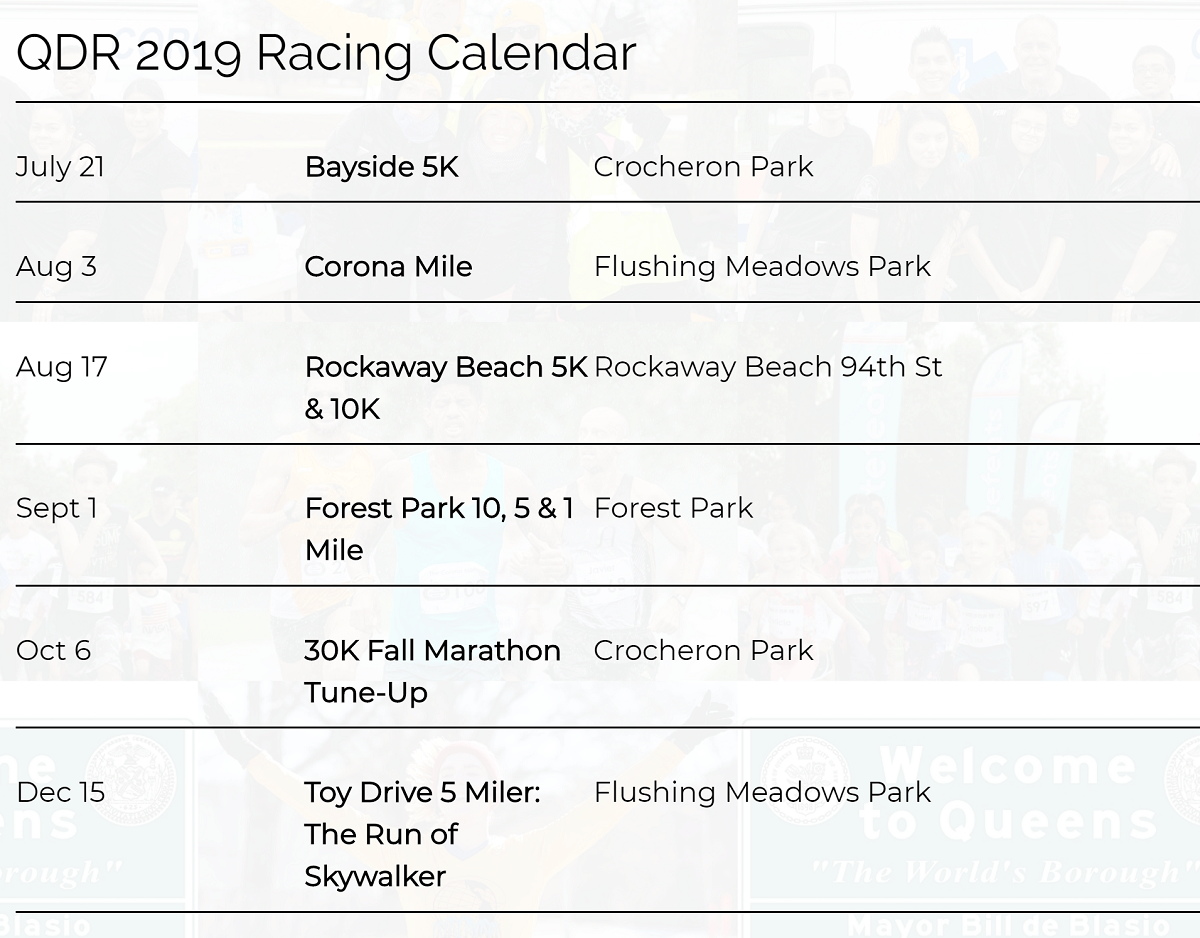 8AM Start
Amenities
5 Miler
All Finishers will receive a Medal for their Efforts!
10 Miler
All Finishers will receive a Medal for their Efforts!
1 Miler - At Forest Park Victory Field
9:45AM COMMUNITY HEAT 1 Mile
10:05 COMPETITIVE HEAT 1 Mile
10:15 KIDS OF QUEENS 1 Mile
Free Kids of Queens Mile
Bib Pickup
>> Friday- August 30th
Queens Community House: 4pm/6pm
108-25 62nd Drive
Online Registration closes on Friday, August 30th. There is no bib Pickup on Saturday, August 31st.
>> You may pick up your bib on Sunday Morning starting at 7:00am.
Course
Whether you are running the 10 Miler, or the 5 Miler, you will have a high quality course ahead of you. The Race Central will be located at Forest Park Drive, by Woodhaven Blvd.
Our mission is to introduce and develop the Queens Running Community. With few races in Queens' 3rd Largest Park, you'll enjoy a quiet scene and opportunity for you to hone in on your Race Pace. Our Volunteers are highly knowledgeable, run the Borough every day, and will be on site to help any racers along the way.
PROFESSIONAL RACE PHOTOGRAPHY
Horse and Duck Studio will place themselves along the course, capturing your very best moments of the race!
QUESTIONS
Please send all inquires to queensmarathon@qdrunners.org
Facebook @QueensDistance
Instagram @QueensDistance
Interested in Volunteering? CLICK HERE!
RESULTS & FINISH PHOTOS
LIVE online/email/text results. LIVE Split Point Tracking throughout looped courses.
FREE Video & Same-day finish line pics
Misc Photos on Facebook @elitefeats
>> For Results to the Bayside 5K- Click this link
For Race Photos Captured by Horse and Duck Studio- Click this link
>> For Results to the Corona Mile- Click this link
For Race Photos Captured by Horse and Duck Studio- Click this link