Event Passed
This Event has passed.
Watch our calendar for next year's event!
Event Location
David A. Sarnoff Pine Barrens Preserve
County Rd. 104
Riverhead NY
11/9/2019 • 9:00 AM
GPS: 40.905686 -72.655192
Event Contact Info
David Gatz
Event Details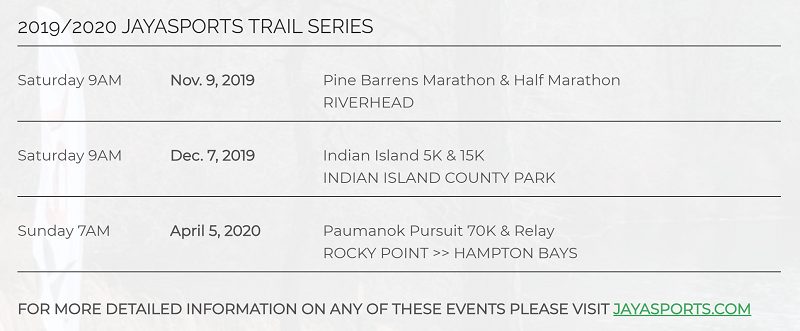 CHECK IN
Day of Race starting at 7:00AM
Race begins 9AM
FEES
Half:
Early $70 - Day of $80
Marathon:
Early $90 - Day of $100
Half Relay for 2:
Early $120 - Day of $140
MANDATORY PARKING AND SHUTTLE BUS SERVICE
There is NO PARKING ON SITE OR ON COUNTY RD. 104. All parking will be at the Suffolk County Center off of County Rd. 104 310 Center Drive S. Riverhead, NY 11901 approximately 1 mile from the race start entrance. Shuttle bus service will begin promptly at 6:45 A.M. and run every 15 minutes. The LAST SHUTTLE BUS will be at 8:15 A.M. If you choose to get dropped off at the park entrance you will have to walk the half mile to the race start. Shuttle bus service after the race will begin at approximately 11:30 A.M.
PARKING
Suffolk County Center
310 Center Drive S., Riverhead
FOR MORE DETAILED INFORMATION ON ANY OF THESE EVENTS PLEASE VISIT JAYASPORTS.COM