Event Location
Rolling Oaks Golf Course
181 NY-25A
Rocky Point NY
4/5/2020 • 7:00 AM
Event Contact Info
David Gatz
Event Details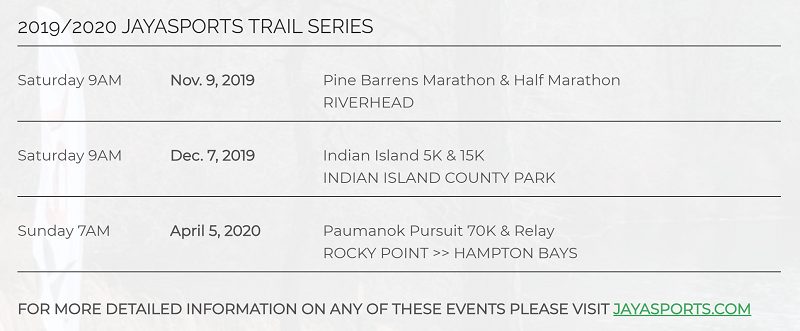 ABOUT
The Paumanok Pursuit is a 70K trail run & relay event along the Paumanok Path in Suffolk County NY
Starting at the western trailhead on Route 25A in Rocky Point, NY and ending at Sears Bellows County Park in Hampton Bays, NY
CHECK IN *Mandatory!
Fri. April 3, 2020: 5-7PM Mandatory number pick-up
Runner's Edge 242 Main St. Farmingdale, NY
Sat. April 4, 2020: 12-2PM Mandatory number pick-up
Twin Forks Bicycles 121 E. Main St. Riverhead, NY
DETAILS
The race is open to individual entrants as well as relay teams of 2 to 5 runners
There will be 5 legs to the race consisting of the following distances in order, 10.75 miles, 8.5 miles, 10.0 miles, 7.5 miles and 6.75 miles, with checkpoints at each
Water, Hammer Nutrition products Heed and Gels offered at the start, after the first 4 legs of the run and finish
Post race party and awards. Custom belt buckles to solo finishers under 12 hours
RULES *Important!
You must provide and carry your own nutrition throughout each leg of the race
If running the relay, each team is responsible for the transportation of its' members to their designated leg start
Please click here for Race Rules & Directions to Leg Starts
TRANSPORT
Bus or Uber transportation leaving 5:00 a.m. race morning Sunday 4/7/19 from the finish at Sears Bellows County Park in Hampton Bays to the start at the Trailhead in Rocky Point. FEE PER PERSON $20. until 3/31/19
FOR MORE DETAILED INFORMATION ON ANY OF THESE EVENTS PLEASE VISIT JAYASPORTS.COM